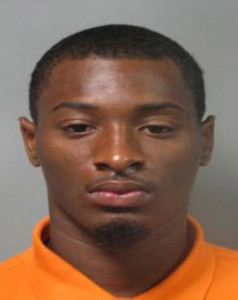 DOVER, DELAWARE (7/29/2015) A 21-year-old Dover man was charged in the robbery of a 7-Eleven store and the attempted robbery of three people nearby, city police said today.
The store robbery in the Hamlet Shopping Center happened just before 11 p.m. Tuesday at 1019 Walker Road/Whatcoat Drive,  Master Cpl. Mark Hoffman said.
Jeff Tolson, of the first block of Heritage Drive, was believed to have acted as a lookout while two black males wearing black clothing and holding a shotgun demanded and received money from employees, Hoffman said.
When officers began to search the area, they saw a group of people at the rear of Whatcoat Drive. As the officers approached,  two black males wearing black clothing fled while three people had their hands up. They told officers that the two who fled and Tolson, who remained behind and was taken into custody, had tried to rob them at gunpoint as police arrived, Hoffman said.
Tolson was charged with two counts of first-degree robbery, three counts of attempted first-degree robbery, second-degree conspiracy and possession of a firearm during commission of a felony.