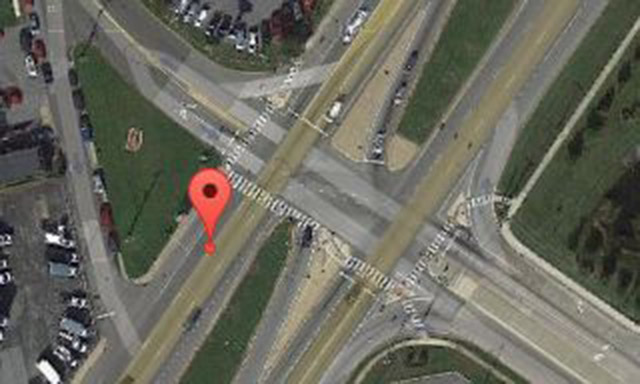 MINQUADALE, DELAWARE (7/23/2015) A pedestrian who had just gotten off a DART bus was injured this morning when he was struck by a Delaware State Police cruiser at the U.S. 13 and Memorial Drive intersection, police said.
A 23-year-old trooper assigned to Troop 2 was westbound on Memorial Drive about 8:40 a.m. in a marked  2012 Chevrolet Caprice and was the second car stopped at a red light. After the light changed to green, police said, the trooper began to turn left onto southbound U.S. 13.
The car in front of his stopped suddenly, and the trooper stopped the cruiser behind it. When traffic began to move again, the cruiser also did and the right front bumper of the cruiser struck the pedestrian, who then fell to the ground, police said.
The trooper immediately stopped the cruiser in the right lane of southbound U.S. 13, police said.
The pedestrian, identified as Dajuan Saunders, 26, of New Castle, was taken by ambulance to Christiana Hospital with injuries police said were not life-threatening.
The trooper, who was not identified, was uninjured. Police said he was wearing a seat belt.
Police said Saunders had exited the DART bus on U.S. 13 and immediately started to cross the road and was struck in front of an enclosed bus stop shelter. Police said he was crossing about 50 feet south of a marked crosswalk with pedestrian signals at the intersection.
Man killed in I-495 rollover crash identified