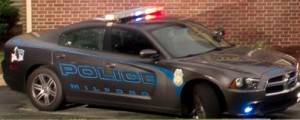 MILFORD, DELAWARE (7/22/2015) A man and woman were charged in connection with an assault of a teenage girl at the Silver Lake Apartments complex earlier this month, Milford police reported Tuesday.
Tynika Handy, 28, also known as Tynika Weston, of Salisbury, Maryland, was charged with terroristic threatening and offensive touching.
Shanun Handy, 31, of Bridgeville, was charged with offensive touching, Detective Dwight Young said.
He said the two were involved in a large fight and Tynika Handy struck a 16-year-old girl not involved in the fight from behind.
Shanun Handy struck the girl in the face and threatened to do more harm, Young said.
Both fled before police arrived at the complex July 7 but were later arrested. Both were released on unsecured bond.