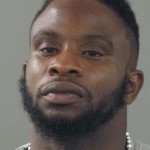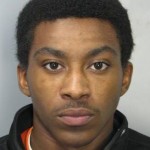 DOVER, DELAWARE (7/20/2015) Two men were arrested after police stopped the stolen car they were in for a traffic violation and a handgun was later found in the vehicle, Dover police said today.
The incident happened about 1:20 p.m. Sunday on South Bay Road at Transportation Circle.
Police stopped a 2003 Mazda Protege for having fictitious tags and then learned the car had been stolen from Milford, Master Cpl. Mark Hoffman said.
The driver, Kevin Woods, 29, of the 29000 block of North Oak Road near Seaford, and passenger Dontrelle Shields, 22, of the 900 block of S.E. Third St. in Milford, were taken into custody without incident.
When officers searched the car they found a .380 caliber handgun underneath the passenger seat where Shields was seated, Hoffman said.
Shields was charged with possession of a firearm and ammunition by a person prohibited, and carrying a concealed deadly weapon. He was being held at Vaughn  Correctional Center near Smyrna in lieu of $11,000 secured bond.
Woods was charged with receiving stolen property. He was being held at Vaughn in lieu of $1,000 secured bond.