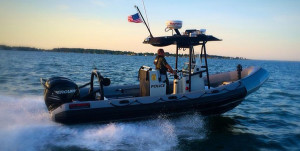 DEWEY BEACH, DELAWARE (7/1/2015) A swimmer carried too far out by strong wind and tide was rescued a half-mile offshore from the south end of Dewey Beach on Monday, authorities said.
The out-of-state man had been swimming from an unguarded beach between Rehoboth Beach and Dewey Beach, Natural Resources Police said.
A Dewey Beach lifeguard responding to the 911 call was unable to reach the man, who was then located by a Delaware State Police helicopter.
Officers on the  Natural Resources Police boat MP-Mike pulled the man out of the water and he was taken to Beebe Healthcare's hospital in Lewes for evaluation.
"Swimming in the waters along Delaware's ocean coast is a very popular summer pastime, but the area is known for its strong and sometimes unexpected tidal undertow or rip currents," said Cpl. John McDerby, of the Natural Resources Police. "In this case, we had an outgoing tide and a strong south wind, which can catch swimmers off guard and pull them out further than they intend to go. We encourage swimmers to be aware of these factors, choose guarded beaches, watch tides and stay close to the beach on windy days."