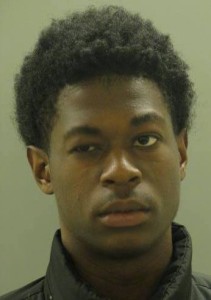 NEW CASTLE, DELAWARE (5/30/2015) Two people were arrested after one of them opened fire at a security guard who wouldn't let them into a private party near New Castle, Delaware State Police reported this morning.
The incident happened about 11:20 p.m. Friday at the Danceworks Dance Studio, 79 Christiana Road (Route 273).
Isaiah Jones, 17, and Quadere Wilson, 20, both of New Castle, were denied access by a 44-year-old private security guard, police said.
The pair then walked to the rear of the building and again were denied access by security, then returned to the front of the building. The 44-year-old guard then asked them to leave.
At that point, police said, Jones pulled a handgun from his waistband and started firing toward the guard and four other adults standing nearby.
Jones and Wilson then ran west through the parking lot and Wilson was detained by security near Gianco Auto Bid next door. Jones was taken into custody in the parking lot of Delaware Technical and Community College's Innovation and Technology Center.
A .25 caliber handgun was found on Jones, police said, which he was prohibited from having due to his age and a Jan. 15 robbery conviction.
Jones was charged with possession of a firearm if previously convicted, possession of a firearm during commission of a felony, possession of a firearm by a prohibited juvenile, possession of a weapon with an obliterated serial number, carrying a concealed deadly weapon, reckless endangering and criminal mischief.
He was being held at the New Castle County Detention Center in lieu of $57,500 secured bail.
Wilson was charged with underage possession or consumption of alcohol and disorderly conduct. He was being held at Young Correctional Institution in Wilmington in lieu of $1,000 secured bond.
No one was injured in the shooting, police said.