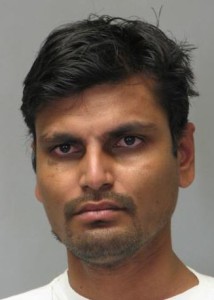 OGLETOWN, DELAWARE (5/23/2015) A gas station employee was charged with having unlawful sexual contact with a customer, Delaware State Police said.
The incident happened about 12:20 a.m. Friday at the Shell station at 1148 Christiana Road (Route 273).
A 21-year-old Philadelphia woman put several food items on the sales counter and attempted to pay for them, police said, but an employee, Fnu Rajasekhar-Kuram, 30, of Newark, insisted she take them for free.
The woman then went to use the bathroom, and Rajasekhar-Kuram used a key to enter the room and asked the woman to expose herself to him, police said.
She refused and told him to leave, but he allegedly touched her inappropriately before she was able to break free and flee.
Police said she suffered a minor injury but refused treatment at the scene.
Rajasekhar-Kuram was being held at Young Correctional Institution in lieu of $5000 secured bail.