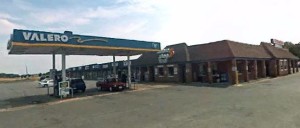 OAK ORCHARD, DELAWARE (5/23/2015) A gunman tried to rob a Shore Stop store in Oak Orchard but fled empty-handed when the elderly employee called for help from other workers, Delaware State Police said Friday.
The incident happened about 7:50 a.m. Wednesday at the intersection of Oak Orchard Road and John J. Williams Highway (Route 24)
The robber, holding a handgun, confronted a 75-year-old woman and demanded money from the cash register. She told him there was none and he then pushed her aside and tried to open the cash drawer, police said.
The woman then ran to the back of the store and yelled into the kitchen for help.
The gunman fled south on Oak Orchard Road.
The employee was not injured, police said.
The gunman was described as about 5-feet-11 and 160-180 pounds. He was wearing a brown hooded sweatshirt, blue jeans, black glasses and had a grey shirt covering his face.
Police asked anyone with information to call at 302-856-5850.
Tips also may be submitted anonymously through Delaware Crime Stoppers, which offers rewards, at 800-847-3333 or www.delaware.crimestoppersweb.com.