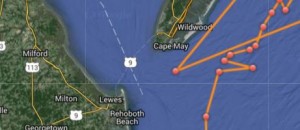 LEWES, DELAWARE (5/16/2015) A great white shark called Mary Lee made a close approach to the mouth of Delaware Bay this week.
The Ocearch research group's website shows Mary Lee "pinged" to a satellite after breaking the surface about 4 miles south of Cape May, New Jersey, and 10 miles northeast of Cape Henlopen, at 5:42 a.m. Friday.
Mary Lee has been zig-zagging the Mid-Atlantic area for weeks, and Friday's appearance followed a 24-hour, 167-mile swim — at about 7 mph — from off Long Island, New York, and a close approach to shore at Long Beach Island, New Jersey, on May 10.
The mature female shark measured 16 feet long and weighed 3456 pounds when it was tagged with a satellite radio transmitter off Cape Cod, Massachusetts, on Sep 17, 2012.
Earlier Mary Lee appearance off coast