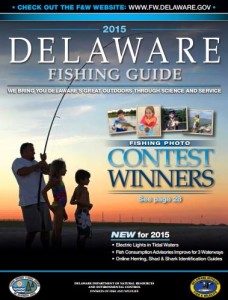 DOVER, DELAWARE (2/6/2015) Just in time for your weekend reading, state officials have released the 2015 Delaware Fishing Guide.
The Division of Fish & Wildlife's new booklet for anglers has been distributed to fishing license agents across the state.
It's also available in digital format on the state website or download a PDF version.
The magazine-sized guide includes information on Delaware's fishing license requirements and the F.I.N. number program, as well as sections on tidal and freshwater sportfishing and regulations.
Other topics include trout stocking, fish consumption advisories, invasive species, Delaware's artificial reef program and the new online herring, shad and shark identification guides.
While the guide include minimum sizes, seasons and possession limits, officials caution that these are subject to change, particularly for American eel, striped bass, black sea bass and summer flounder.
The online version of the guide on the state website will be updated as any changes are made.
The guide also features the winning photos from the Delaware Division of Fish & Wildlife's 2014 Fishing Photo Contest, with the first-place winner on the cover.
In addition to finding the guide at sporting goods, bait & tackle and hardware stores, anglers may pick up a copy, along with their fishing license and trout stamp, at the Delaware Division of Fish & Wildlife's main office in the Richardson & Robbins Building, 89 Kings Highway, Dover.