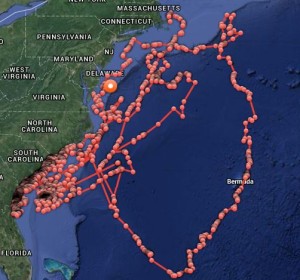 FENWICK ISLAND, DELAWARE (5/1/2015) A research group is tracking a great white shark nicknamed "Mary Lee" that was 45 miles southeast of Fenwick Island this morning.
Ocearch began tracking the mature female shark by tagging it with a radio transmitter off Cape Cod, Massachusetts, on Sept. 12, 2012 – when it weighed 3,456 pounds and was 16 feet long – so its movements could be followed by satellite any time it breaks the surface for more than 90 seconds.
Since then the shark has been monitored traveling off the coast as far south as Florida.
Her location April 22 was about 100 miles east of Virginia Beach, Virginia, outside the continental shelf.
On Wednesday, Mary Lee "pinged" off the mouth of the Chesapeake Bay, just over the continental shelf.
On Thursday morning, Mary Lee was 25 miles southeast of Fenwick – about 17 miles off Assateague Island in Maryland – and traveled about 23 miles east in 24 hours, remaining over the continental shelf, by 7:17 this morning.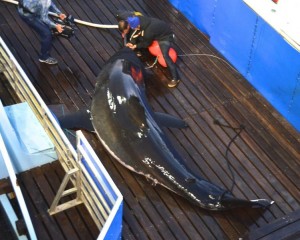 Mary Lee's closest recent encounter with the shoreline on the Delmarva Peninsula was Jan. 24, when it was monitored about 5 miles off the beach south of Wallops Island in Virginia.
Mary Lee was named after Ocearch expedition leader Chris Fischer's mother.
The group tracks dozens of other sharks it has tagged.
A female mako shark dubbed "Cate Ellis" was tracked about 15 miles east of Indian River Inlet at 7:22 a.m. Thursday. The immature shark was tagged last July 14 off Montauk, New York, when it was 6-feet-6 and 78 pounds.
Follow the travels of Mary Lee with Ocearch