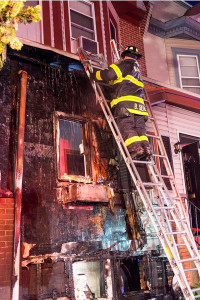 WILMINGTON, DELAWARE (5/14/2015) An elderly woman was injured when fire broke out in a home this morning, authorities said.
The blaze was reported at 4:34 a.m. at 2410 N. Tatnall St.
City firefighters found the woman on the back deck of the townhome.
She was treated for smoke inhalation and taken by ambulance to Wilmington Hospital for further evaluation.
The fire was placed under control at 4:53 a.m. by Battalion Chief John Hoban.
There were no other injuries reported.
The city Fire Marshal's Office is investigating.
City inspectors secured the property and power was disconnected due to damage to some of the home's wiring, Battalion Chief James Jobes said.
Burn victim in critical condition after Simonds Gardens fire
1 dead, 5 injured in house fire near Frederica