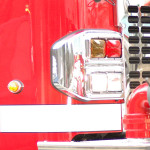 BEAR, DELAWARE (5/4/2015) Two boys were charged with setting a fire in a vacant mobile home at the Glasgow Court Trailer Park, authorities said today.
The blaze was reported just after 5:30 p.m. Sunday in the 200 block of N. Oxford Drive. The trailer was engulfed in flames when Christiana firefighters arrived.
The boys, ages 13 and 10, were apprehended in the trailer park shortly after the fire was extinguished, said Michael Chionchio, assistant state fire marshal.
He said the boys ignited items inside the trailer and the fire spread to two adjacent trailers – one vacant and the other occupied.
Damage was estimated at $2,000.
No injuries were reported.
The boys were charged with arson, criminal trespassing and conspiracy. They were each released on $7,500 unsecured bond.