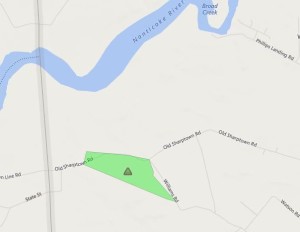 LAUREL, DELAWARE (3/21/2015) A 17-year-old girl died in a crash on Old Sharptown Road west of Laurel this morning, state police said.
She was identified as Erica Colbourne of Laurel.
Four other teenagers suffered minor injuries in the accident in the 3400 block near the Maryland line about 4:30 a.m.
The crash was a tenth of a mile west of Williams Road, police said.
Police said Seth L. Edwards, 17, of Laurel, was driving a 1998 Buick Century westbound on Old Sharptown Road when he lost control of the car on a right-hand curve and struck a utility pole on the south side of the road with the left side of the car.
The Buick came to rest in the westbound lane.
Colbourne, who was seated in the rear seat, was pronounced dead at the scene.
Police did not know if she was wearing a seat belt.
Edwards, who was wearing a seat belt, was not injured. Police said alcohol use on the part of Edwards is being considered as a factor in the crash.
A 16-year-old boy from Laurel, a 16-year-old boy from Salisbury, Maryland, and a 15-year-old boy from Laurel, who were passengers in the vehicle, were all taken by ambulance to Nanticoke Memorial Hospital in Seaford, where they were treated for minor injuries.
A 16-year-old girl from Seaford was taken by ambulance to Peninsula Regional Medical Center in Salisbury, where she was treated for minor injuries.
This crash remains under investigation by state police, who said charges are expected.
Old Sharptown Road was closed about 4 hours as the crash was investigated and cleared.
Firefighters and ambulances responded from Laurel, Delmar and Sharptown, Maryland.
Delmarva Power reported 23 customers in the area were without electric service for several hours.