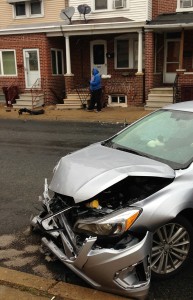 WILMINGTON, DELAWARE (3/20/2015) Two vehicles collided and one of them struck the front of a home at Second and Lincoln streets in Wilmington this morning, according to reports from the scene.
The accident happened about 8:30 a.m.
One minor injury to a female driver was reported.
City building inspectors were called to check the damage to the home in the 1900 block of W. Second St.
Second Street was closed in the area.