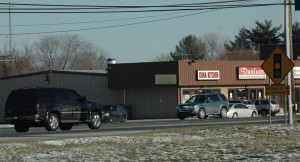 DOVER, DELAWARE (3/20/2015) A man wounded Monday in a shooting in the Rodney Village neighborhood south of Dover has been charged with attempted murder in a shooting north of the city in January, state police said today.
James A. Wheeler, 25, of Dover, was shot multiple times in his lower torso about 5 p.m. Monday, police said.
He had been identified earlier as a suspect in the shooting of a 44-year-old man on Jan. 8 outside a restaurant at the North Dover Plaza shopping center on U.S. 13, north of Dyke Branch Road, police said, but investigators had been unable to locate him.
Wheeler was arrested Wednesday at a local hospital where he was taken for treatment. He was charged with first-degree attempted murder, attempted robbery,  possession of a firearm during commission of a felony and by a person prohibited, reckless endangering and conspiracy.
He remained hospitalized in the custody of the Department of Correction in lieu of $618,000 cash bail.
The 44-year-old shooting victim was treated for his wounds at a local hospital, police said.
Police are continuing to investigate the shooting of Wheeler.
Anyone with information is asked to contact investigators at 302-697-2104.