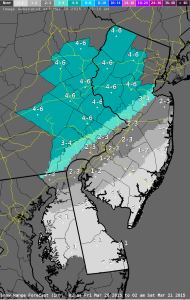 DELAWARE (3/19/2015) Snowfall up to 3 inches will mark the start of spring in Delaware on Friday, the National Weather Service says.
The heaviest snow will fall in northern New Castle County, with less than an inch predicted in Kent and Sussex counties.
Parts of eastern Pennsylvania and northern New Jersey may get up to 6 inches of snow.
Snow will start early in the day and will mix with or change to rain in the afternoon. Some light freezing rain or drizzle is possible in the evening.
A winter weather advisory was issued for New Castle County from 5 a.m. until 8 p.m. Friday.
Weekend skies will be mostly sunny, with a high about 50 on Saturday.