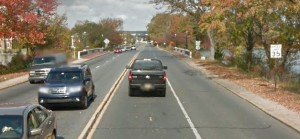 DOVER, DELAWARE (3/17/2015) A 19-year-old Wesley College student was fatally injured when she was struck by a car while jogging across North State Street  on Monday afternoon, Dover police said today.
The victim was identified as Brittany A. Paige of Dundalk, Maryland.
She had been jogging on the southbound side of North State Street as traffic was stopped at Walker Road, Cpl. Mark Hoffman said, about 4:45 p.m.
He said numerous witnesses saw her looking at her cellphone with ear buds in her ears as she walked between stopped southbound vehicles, then began to jog across the northbound lanes without looking for oncoming traffic.
Paige was struck near the Silver Lake bridge by a Mazda sedan that had turned left from Walker Road onto North State.
She was rushed to Bayhealth Kent General Hospital, where she was later pronounced dead due to blunt force trauma, Hoffman said.
Paige was in her first year at Wesley College and majoring in elementary education and special education, said Jessica Cook, director of communications and marketing for the school.
Hoffman said police are still investigating the accident.