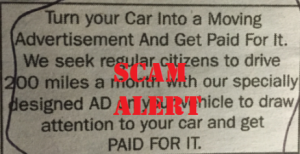 MILFORD, DELAWARE (3/13/2015) City police are warning the public about a new scam that targets high-mileage drivers.
Advertisements solicit anyone driving at least 200 miles a week in their personal vehicles, police said.
The ads claim these individuals could get paid for allowing companies to advertise on their vehicles with "wrapping" ads.
"They send you a check and ask you to cash the check on your personal checking account and ask that you send them a portion of the money back supposedly to cover the cost for the wrapping. You later find out that the check is fraudulent and the bank takes the money from your personal account, causing some accounts to be overdrawn," police said in a news release.