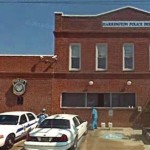 HARRINGTON, DELAWARE (3/11/2014) A man suspected in the theft of money and prescription drugs at the Clarks Corner Apartments has been arrested, Harrington police said Tuesday.
Hodges L. Brown 46, who lives in the apartments, was arrested Monday when officers spotted him riding in a vehicle.
He was charged with acquire or attempt to acquire or obtain possession of a controlled substance by theft, and theft under $1,500, Lt. Earl Brode said.
Brown was released on $2,500 unsecured bond.