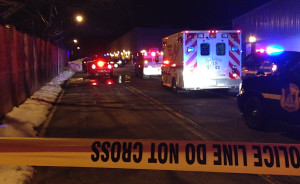 CLAYMONT, DELAWARE (3/8/2016) A 35-year-old burglary suspect was shot to death by a state trooper this morning, state police said.
The incident occurred about 1:35 a.m. after a trooper responded to the Rite Aid at the Northtowne Plaza, 641 Naamans Road, for a burglary alarm.
Police released this account:
"Upon arrival the trooper observed the suspect's vehicle parked at the rear of the business. As the trooper exited his vehicle he observed the suspect exiting the rear door of the Rite Aid and quickly entered his vehicle. The suspect then attempted to flee with the trooper at his opened driver's side door. The suspect dragged the trooper as he reversed his vehicle striking the marked patrol Tahoe.
"The suspect then again attempted to drive off and continuing to drag the trooper. The trooper then fired his divisionally issued weapon striking the suspect's upper torso. The trooper immediately rendered first aid to the suspect until the arrival of EMS personnel."
The suspect, later identified as Michael L. McKillop, 35, of Philadelphia, was taken by state police helicopter to Christiana Hospital, where he was pronounced dead just after 4 a.m.
Police said the trooper suffered cuts and bruises during the altercation and was taken to Wilmington Hospital for treatment and then released.
The trooper involved is a 16-year veteran of the Delaware State Police assigned to Troop 1 in Claymont. He has been placed on administrative leave as per policy, pending the outcome of the investigation.
Detectives from the Delaware State Police Homicide Unit are conducting the investigation.