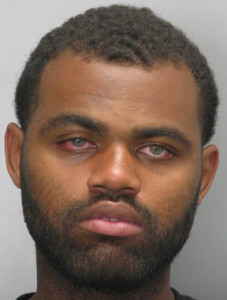 HARBESON, DELAWARE (3/8/2015) A 26-year-old Lewes man is facing murder, DUI and drug charges after an SUV he was driving while fleeing from troopers struck another vehicle, killing a Harbeson man, state police said. Five people were injured in the crash, including a 3-year-old.
The crash happened about 11:30 a.m. Saturday at the intersection of Forest Road and Harbeson Road (Route 5) south of Harbeson.
Police said Rashai L. Harmon was driving g a 1995 Chevrolet Tahoe westbound on Forest Road.
Troopers had attempted to stop him because he was wanted on several charges but broke off the pursuit when he began driving recklessly, police said.
He disregarded a stop sign and struck the front center of a 2014 Kia Soul which had been southbound on Route 5, police said.
After the collision, Harmon tried to flee on foot but was taken into custody, police said.
Charles Permint, Jr.,  a passenger in the Kia, was taken by ambulance to Beebe Healthcare's hospital in Lewes, where he was pronounced dead.
A 3-year-old passenger in the Kia was flown to Nemours/A.I. DuPont Hospital for Children in Rockland  for treatment of injuries considered serious but not life-threatening, police said.
The driver of the Kia, 60-year-old Ludmilla Permint of Harbeson, and a 23-year-old passenger were treated for minor injuries and released.
Harmon also was taken by ambulance to Beebe, treated for minor injuries and released to police.
A 26-year-old woman who was a passenger in Harmon's SUV was flown to Beebe by state police helicopter, treated for injuries and released.
All involved were properly restrained in the vehicles, police said.
Harmon was charged with second-degree murder; vehicular assault; reckless endangering; possession with intent to deliver crack cocaine, powder cocaine, marijuana and heroin; second offense DUI; and other counts.
He was committed to Sussex Correctional Institution for lack of $372,213 secured bail.
Police said the charges he had been sought on before the crash included violation of probation, terroristic threatening, criminal mischief and criminal trespass
The intersection was closed about four hours as the crash was investigated and cleared.