Snow scenes in your backyard? Share your pix with news@delawarefreenews.org.

DELAWARE (3/6/2015) In the wake of a record 7-inch snowstorm Thursday and with Delawareans awakening to record cold this morning, DelDOT reports that main roads throughout the state remain wet with patches of snow and ice.
Secondary and minor roads are snow-covered with icy spots, DelDOT said at 8:30 a.m. Crews are continuing to treat the roads and plow as needed.
Forecast
Sunny skies will prevail today and through the weekend, the National Weather Service says. Today's high will reach about 27 degrees with a low tonight of 9 upstate and 12 downstate. The high will reach the 40s by Sunday afternoon.
The next chance for precipitation is Tuesday – as rain, not snow! And it's only a 30 percent chance.
State, county, city offices opening late
State and county offices will open two hours late this morning, officials announced.
State offices will open at 10 a.m. "Non-essential" employees are to report at that time but "essential" employees are to report as scheduled.
New Castle County government offices will also open at 10 a.m. County libraries will open at noon.
Kent County government offices will open at 10 a.m. Sussex County government offices will open at 10:30 a.m.
Wilmington, Newark and Dover government offices also are opening late.
University of Delaware, Delaware Technical Community College and Delaware State University campuses are closed today.
All 19 public school districts in the state are closed today, as well as many private and charter schools.
Transit service
DART says delays should be expected on all services.
Route 8 bus service in New Castle County is canceled.
In Kent County, Route 117 is not serving PolyTech High School, Mifflin Meadows, Paris Villa or London Village. Routes 103 and 105 have resumed service to Rodney Village. Routes 109, 112, 113 and 120 have resumed service to Dover Mall.
In Sussex County, scheduled paratransit pickups for after 9 a.m. will operate with delays. Customers are asked to have driveways and sidewalks cleared. Flex Routes 901, 902 & 903  will operate with schedule deviations after 9 a.m.
SEPTA's Wilmington/Newark line is operating on a normal weekday schedule with delays.
Record low and snow
The temperature at New Castle Airport dipped to 5 degrees before dawn today, breaking a record low of 11 set in 1920 and matched in 1926. Normal low for the day is 31 degrees.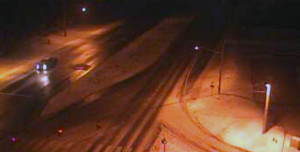 The temperature dropped to 8 degrees at Dover Air Force Base and to 13 at Sussex County Airport near Georgetown.
The storm dumped 7.4 inches of snow at Greenville, and the 7.0 inches measured at New Castle Airport broke the record for March 6, which was 3.7 inches in 1981.
Other snow totals from the Delaware Environmental Observing System:
New Castle County: Hockessin, 6.6; Pike Creek, 6.5;  Talley Road, 6.4 inches; New Castle, 5.6; Claymont, 5.3; Glasgow, 4.9; Port Penn, 4.9; Smyrna, 4.8; Newark, 4.6; Prices Corner, 4.5;  Blackbird, 4.5.
Kent County: West Dover, 5.8; Dover, 5.2; Frederica, 5.1; Woodside, 3.4; Harrington, 3.1.
Sussex County: Ellendale, 6.1; Laurel, 4.9; Millsboro, 4.4; Seaford, 4.0; Stockley, 3.6; Bridgeville, 3.5; Selbyville, 3.4; Lewes, 3.3; Bethany Beach, 2.9.
Road problems
State police reported more than 150 crashes on slick Delaware roads Thursday and warned of dangerous conditions.
The speed limit on the Delaware Memorial Bridge was reduced to 40 mph this morning and the limit on Interstate 495 was cut to 55 mph.