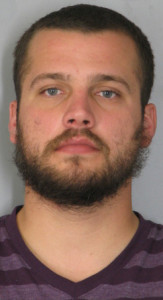 NEWARK, DELAWARE (3/5/2015) A 26-year-old Ogletown man was charged with DUI and weapons offenses after he failed to pay for parking at a city lot and was reported by a witness, Newark police said today.
The incident unfolded about 11:20 p.m. Tuesday at the Newark Parking Authority lot at 54 E. Delaware Ave.
The witness reported to police the man had not paid for parking, then followed the vehicle to a parking lot at 400 Elkton Road, where officers found Matthew Quesenberry in the driver's seat, Lieutenant Bill Hargrove said.
Quesenberry, of the 100 block of Shue Drive, had been driving while intoxicated and had a loaded 9 mm handgun in his driver's side car door, Hargove said.
Quesenberry attempted to flee but was captured after a short foot chase, Hargrove said.
He was charged with driving under the influence of liquor, carrying a concealed deadly weapon if previously convicted of two violent felonies, carrying a concealed deadly weapon, possession of a deadly weapon by a person prohibited, possession of a weapon while under the influence and resisting arrest.
Quesenberry was being held at Young Correctional Institution in lieu of $43,000 cash bail.