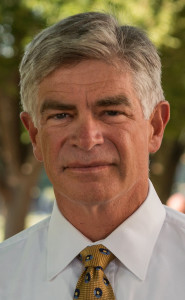 NEWARK, DELAWARE (3/2/2015) The president of the University of Delaware is stepping down.
President Patrick T. Harker, 56, released the following statement this morning:
To the members of the University of Delaware community:

With mixed emotions, I write to tell you I will be stepping down as president of the University of Delaware to become president and chief executive officer of the Federal Reserve Bank of Philadelphia, effective July 1.

It has been an honor and a privilege to serve as president of this University. Working with our motivated students, illustrious faculty and dedicated staff has been inspiring, invigorating and unforgettable.

Together we have accomplished much over the past eight years: facing challenges, crafting solutions, maximizing opportunities and ensuring the future of this noble institution.

With your expertise and commitment, we have enhanced our outstanding reputation and expanded UD's contributions to the state, the nation and the world. These achievements position us well in the increasingly challenging world of higher education.

Over the next four months, I will work closely with our Board of Trustees and our dedicated administrative team to ensure smooth transition in leadership.

While I am excited about my new role with the Philadelphia Fed, I will miss working on this beautiful campus with the best students and the most dedicated faculty and staff in American higher education.

With respect and gratitude always,

Patrick T. Harker

President
In his new role, Harker will help formulate U.S. monetary policy and will oversee the 900 employees at the Philadelphia Fed.
"His deep roots in the region, his distinguished career in academia, his drive for innovation, and his passion to make our region an economic engine for the future truly impressed our board," said James E. Nevels, chairman of the Philadelphia Fed's board of directors.
Harker has served as a nonbanking Class B director of the Philadelphia Fed for the past three years,. He will succeed Charles I. Plosser, who retired effective Monday.
Before coming to UD, Harker was dean of the Wharton School of the University of Pennsylvania from 2001 to 2007.
When appointed president in July 2007, Harker also became professor of Business Administration in UD's Alfred Lerner College of Business and Economics and a professor of Civil and Environmental Engineering in the university's College of Engineering.
Harker received a B.S.E. and M.S.E. in Civil Engineering in 1981, an M.A. in Economics in 1983 and a Ph.D. in Civil and Urban Engineering in 1983, all from the University of Pennsylvania.