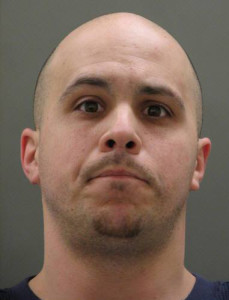 OGLETOWN, DELAWARE (2/28/2015) A 35-year-old Ogletown man was arrested on drug charges and troopers seized 126 bags of heroin from his home in the Hillside Heights neighborhood, state police said this morning.
The arrest happened about 7:10 a.m. Friday in the 1200 block of Greentree Road.
Robert M. Rivera was taken into custody without incident.
His daughters, ages 8 and 12, were present and police turned them over to a relative.
Rivera was charged with possession with intent to deliver heroin, possession of a controlled substance (heroin), possession of marijuana, two counts of endangering the welfare of a child and possession of drug paraphernalia. He was released on $10,500 secured bail.
Police said the heroin found in the home was stamped "Block Party" and weighed about 1.89 grams.