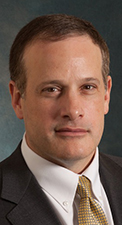 WILMINGTON, DELAWARE (2/27/2015) Gov. Jack Markell said today he has nominated veteran attorney Jeffrey J. Clark to serve on Superior Court in Kent County.
The nomination is subject to confirmation by the state Senate.
He would fill the vacancy left earlier this month when Jan Jurden became president judge of Superior Court.
Clark, 46, is a partner at Schmittinger & Rodriguez, P.A., and has 18 years of legal experience, according to Markell's announcement.
He also served as a legislative attorney for the Delaware State Senate for sixteen years and has served as a commissioner on the Delaware Public Service Commission since 2005.
He is an Army veteran, member of Kenton United Methodist Church and  served as director of the Smyrna Opera House for two years.
Clark graduated from the United States Military Academy at West Point in 1990. He earned his law degree at Widener University School of Law and was admitted to the Delaware Bar in 1997. He lives with his family near Kenton.
Markell also announced he has nominated the Mary M. McDonough for reappointment on the New Castle County Court of Common Pleas, which she has served as a commissioner since 2004.
He also nominated Susan P. Tussey for reappointment to the New Castle County Family Court, where she has served as a commissioner since 2010.