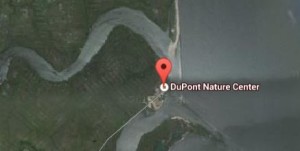 SLAUGHTER BEACH, DELAWARE (2/27/2015) Volunteers are being sought for the DuPont Nature Center at Mispillion Harbor Reserve in advance of its April 1 reopening, state officials said today.
Spring cleanup will be March 14, with two shifts: 9 a.m. to noon and 12:30 to 3:30 p.m.
Volunteers will replace sandbags, weed, set up exhibits and tanks as well as clean the center and grounds near Slaughter Beach.
Volunteers under 18 must provide a parental consent form; those under 16 must be accompanied by an adult. For more information or to sign up, contact Dawn Webb Cox at dawn.cox@state.de.us.
The center is also seeking volunteers for the 2015 season.
The center's hours from April 1 through Aug. 30 will be 10 a.m. to 4 p.m. Tuesday through Sunday. For September, the center will be open 10 a.m. to 4 p.m. on Wednesdays and Sundays only.
Volunteer training will be:
6 to 8:30 p.m. Wednesday, April 8
1 to 4 p.m. Saturday, April 25
Participants will learn about spawning horseshoe crabs, migratory shorebirds, fish and shellfish to educate visitors. Participants must be registered DuPont Nature Center volunteers to attend the training. Preregister by emailing dawn.cox@state.de.us.
The center, operated by the Delaware Division of Fish and Wildlife, is located off Route 36 at the end of Lighthouse Road, at the junction of Cedar Creek and the Mispillion River.