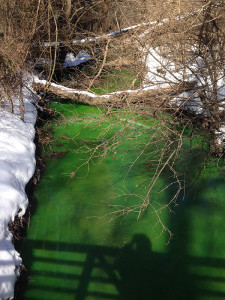 NEWARK, DELAWARE (2/24/2015) City officials say a leak that turned water green today in Phillips Park and other creeks has been repaired.
The color was caused by a dye and corrosion inhibitor leaking at the University of Delaware, according to the city's Facebook page, and has been repaired by university facilities staff.
Less than 500 gallons of chilled and dyed water was discharged and is not anticipated to have any environmental impact, city officials said.