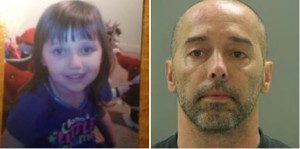 NEW CASTLE, DELAWARE (2/24/2015) An Amber Alert for a 3-year-old New Castle-area girl was canceled this afternoon when she was found safe in Massachusetts, police said this afternoon.
Elinor Trotta was found along with her father, 43-year-old Michael Trotta, said Officer First Class Tom Jackson of New Castle County police.
Michael Trotta was taken into custody outside of an apartment building in Spencer, Massachusetts, about 3:30 p.m., Jackson said.
Warrants remain on file for Michael's arrest in Delaware stemming from an assault on Feb. 15 as well as reckless endangering and carjacking charges from an incident Monday night near New Castle, Jackson said.  He also will be charged with endangering the welfare of a child and is awaiting extradition back to Delaware.
Elinor's mother Dawn will be flying to Massachusetts with law enforcement officials to be reunited with Elinor, Jackson said.  
The girl's mother reported her ex-boyfriend, Michael Trotta, came to her home at the School Side Apartments in the 800 block of E. Basin Road (Route 141) about 6:45 p.m. Monday, assaulted her and took their daughter, Jackson said.
Police initially reported he had fled in a 1989 gray Mazda 626 but this morning said that vehicle has been located and Trotta might be driving a bright red SUV, possibly a Ford Explorer.