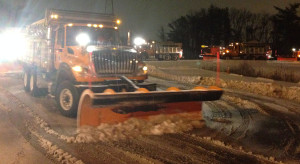 DELAWARE (2/24/2015) Another Delaware cold-weather record was broken this morning, according to National Weather Service data.
The temperature dipped to 11 degrees at Sussex County Airport near Georgetown before 6 a.m., breaking a record low of 13 set on this date in 1956. The normal low is 30 degrees.
At New Castle Airport, the temperature fell to 6 degrees before 6 a.m., matching a record set in 1923. The normal low for the date is 28 degrees.
The temperature fell to 9 degrees at Dover Air Force Base before 4 a.m.
The sky will be mostly sunny today upstate, with a high about 22 degrees, according to the weather service.
Clouds in southern Delaware will be increasing through the day, with a slight chance for snow late tonight.
Overnight lows in the teens and single digits will continue through the week.