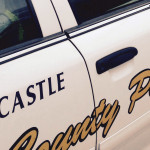 BROOKSIDE, DELAWARE (2/18/2015) The operators of a dirt bike and an all-terrain vehicle were cited by New Castle County police Tuesday and their vehicles were towed from the scene.
The two were issued a total of 17 citations after patrol officers observed a number of ATVs in the Brookside area, Officer First Class Tracey Duffy said.
She said Delaware law prohibits the operation of ATVs and other off-highway vehicles on public roadways, sidewalks, private property without the consent from the property owner or right-of-way locations.
An exception during special events requires a permit from the governmental body having jurisdiction.
Penalties for riding in prohibited areas include towing and storage fees, a fine of $100 and impoundment for up to 100 days at the expense of the owner.
A fine of $400 and six-month impoundment applies on subsequent offenses after a conviction.
Anyone spotting off-road vehicle violations is asked to call the county police non-emergency number at (302) 573-2800.