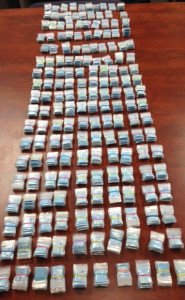 FREDERICA, DELAWARE (2/10/2015) A Wilmington man who fled from troopers on Route 1 at more than 100 mph crashed into two utility poles, was treated at a hospital and then arrested after 2,340 bags of heroin were found in his vehicle, state police said today.
The pursuit by police began about 9:50 p.m. Monday on southbound Bay Road (Route 1) near Barratt's Chapel Road north of Frederica.
A trooper on patrol saw a white sedan speeding, caught up to it and activated the emergency lights on the patrol car, but the sedan sped away.
When the chase topped 100 mph, the trooper backed off to a safe distance at Thompsonville Road and later came upon the crash scene in front of the I.G. Burton car dealership north of Milford, police said.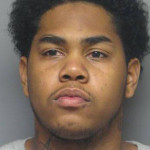 The driver, later identified as Ronald E. Brown, 25, was laying outside the car and taken to Bayhealth Milford Memorial Hospital by emergency medical crews for treatment of injuries police said were not life-threatening.
A search of the 2012 Ford Fusion found a black bag on the front passenger's side floor containing the heroin weighing 35.115 grams along with more than $2,000 in suspected drug proceeds, police said.
After being discharged from the hospital, Brown was was charged with Possession of a Controlled Substance in a Tier 5 Quantity (Heroin), Possession with Intent to Deliver Heroin, Possession of Drug Paraphernalia, Disregarding a Police Officer Signal, Driving While Suspended or Revoked, Reckless Driving, Speeding and other traffic offenses.
He was being held at Sussex Correctional Institution in lieu of $102, 255 cash bond.