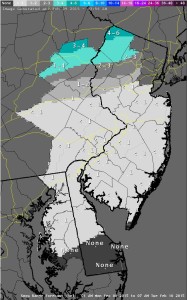 DELAWARE (2/9/2015) An icy wintry mix of precipitation may make for tricky driving today.
Rain and sleet are due to arrive during the day and tonight in northern Delaware, with the rain freezing as it hits the surface once the temperature falls below 32 degrees, the National Weather Service says.
Then snow and sleet are possible late tonight and early Tuesday.
The weather service issued a winter weather advisory until 6 a.m. Tuesday for New Castle County and nearby areas.
The storm will limit visibility to a half mile or less at times.
Less than an inch of sleet or snow accumulation is predicted and a few hundredth of an inch of ice.
Wind will be from the northeast to north at 10-15 mph with gusts around 20 mph.
The temperature will be warmer downstate with little snow or sleet accumulation expected.
Anyone traveling to the north may encounter much heavier snowfall, with up to 6 inches predicted in northeastern Pennsylvania and northern New Jersey, and more than a foot forecast in New York and New England.