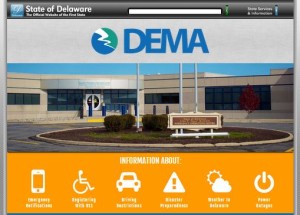 SMYRNA, DELAWARE (2/6/2015) The Delaware Emergency Management Agency today unveiled a redesigned web page.
The new design is smart-phone friendly, featuring an orientation that is vertical when viewed on phones rather than the horizontal layout used to fit computer monitors, said DEMA spokesman Gary Laing.
He said the home page has been given a new look with the addition of a panel where visitors may view videos, or, during emergencies, special information. New icons help direct visitors to most-often requested information.
Agency Director Jamie Turner said, "As more and more people look to web sites and social media for both everyday information and critical emergency information, it is important for DEMA to make sure that our information and delivery of that information, keep pace with new technologies."
The page also has links to DEMA's social media pages on Facebook and Twitter.