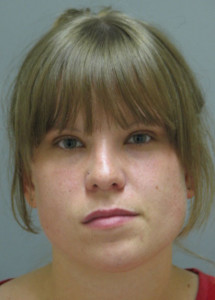 NEWARK, DELAWARE (2/4/2015) A 29-year-old New Castle woman was arrested Tuesday in connection with two burglaries at homes in Newark, city police said today.
Emily Popkey allegedly took a wallet and jewelry from a home in the 200 block of Cheltenham Road on Jan. 7, and a wallet from another home in the same block on Jan. 22. Cpl. James Spadola said both homes were unsecured.
Popkey then attempted to use the stolen credit cards and sold the stolen jewelry to a pawn shop, Spadola said.
He said detectives linked her to the crimes through pawn records and security footage.
Popkey was being held at Baylor Women's Correctional Institution on burglary, theft and related charges in lieu of $25,000 cash bond.
Anyone with additional information is asked tocontact Detective Morgan Fountain at 302-366-7110 ext. 133 or morgan.fountain@cj.state.de.us.