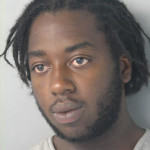 WILMINGTON, DELAWARE (2/4/2015) A handgun was seized and a man arrested after officers stopped a vehicle for a traffic violation, city police said Tuesday.
The incident happened about midnight Saturday at Fourth and Jackson streets.
After stopping the vehicle, officers learned a rear-seat passenger had an active warrant. They ordered him from the vehicle and saw a long handgun magazine protruding from the waistband of Tory Jenkins, 21, of Wilmington, police said.
The gun was a Glock .40 caliber with eight rounds of ammunition in an extended magazine that could hold 22 rounds, police said.
Jenkins was charged with possession of a firearm by a person prohibited and carrying a concealed deadly weapon. He was being held at Young Correctional Institution in lieu of $20,000 cash bail.
3 arrested in Wilmington armed robbery try