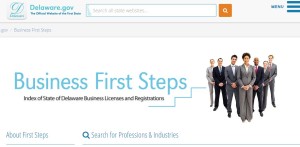 NEW CASTLE, DELAWARE (2/2/2015) The state has launched a new website, Business First Steps, to help startups get off the ground.
The site was unveiled today by Gov. Jack Markell and other officials to help small businesses find information on licenses, permits and other state requirements.
"We must remain committed to removing unnecessary obstacles and giving our entrepreneurs the best opportunity to start and expand their companies," Markell said. "… Now the aspiring entrepreneur can find a checklist of steps to open a business in Delaware."
The site includes information about local government licensing requirements. Businesses, such as contractors who perform site work in multiple towns and cities, must have appropriate licenses and permits in each locality where they perform work, officials said.
The site was designed and built by the Government Information Center, an office within the Delaware Department of State.
Today's unveiling was held in the Emerging Enterprise Center on Penns Way near New Castle, part of the New Castle County Chamber of Commerce, and another resource for small business start-ups and existing small business.
Steps to Opening a Business