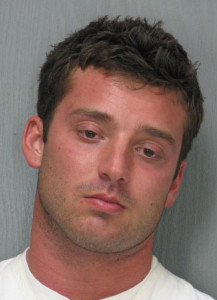 MILLSBORO, DELAWARE (2/1/2015) A 31-year-old man was charged with DUI after his car struck the rear of an SUV, causing it to overturn and injure two people east of Millsboro, state police said this morning.
The accident happened about 6 p.m. Saturday on John J. Williams Highway (Route 24) near the Holly Lake campground, Master Cpl. Jeffrey Hale said.
Jeffrey Dorsey of Lewes was driving a 2008 BMW 330i  west when it first crossed the double center line and nearly struck an oncoming vehicle, then re-entered the westbound lane where it hit the rear of  a 2004 Jeep Liberty, Hale said.
After the Jeep overturned, the driver, Brandon Munoz-Cedillo, 21, of Georgetown, and a 22-year-old man who was riding with him were taken by ambulance to Beebe Healthcare's hospital in Lewes.
Hale said they were treated for injuries not considered life-threatening.
Dorsey, who was not injured, also was charged with two counts of vehicular assault and other offenses, Hale said. He was being held at Sussex Correctional Institution in lieu of $2,262 bail.