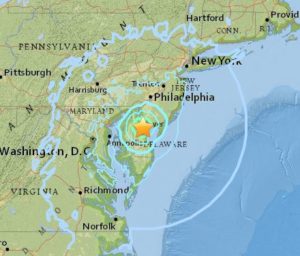 DOVER, DELAWARE (11/30/2017) A magnitude 4.1 earthquake rattled Delaware and nearby states late this afternoon.
The quake at 4:47 p.m. was centered 6.2 miles east northeast of Dover at a depth of 5 miles, according to the U.S. Geological Survey.
That location is in Bombay Hook National Wildlife Area, near the Delaware Bay.
The USGS initially reported the magnitude was 5.1, but later revised it to 4.4 and then to the 4.1 figure.
There were no immediate reports of damage from the quake, but residents of the Dover area and southern Kent County reported feeling it shake their homes.
Other reports on the quake stretched from Washington, D.C., to New York.