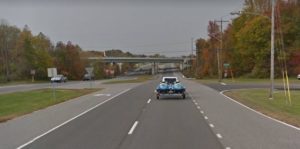 TOWNSEND, DELAWARE (10/6/2017) A crash on U.S. 13 (DuPont Parkway) east of Townsend has darkened traffic signals for several miles this morning.
Delaware Department of Transportation reported at 7 a.m. that lights were out between Paddock Road and Fieldsboro Road.
Citizens' Hose Company of Smyrna firefighters were dispatched to the area at 6:43 a.m. to deal with arcing wires.
Delaware State Police reported the single-vehicle crash at Eagles Nest Landing Road and U.S. 13 had toppled a utility pole and caused intermittent outages in the area. There was no immediate word on injuries.
Police said northbound U.S. 13 traffic was being restricted to one lane.
Delmarva Power had crews working to restore power. The company reported on its website that fewer than five customers were without service and electric service was expected to be restored by 10 a.m.