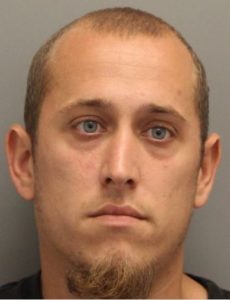 PEARSONS CORNER, DELAWARE (9/7/2017) A 29-year-old Hartly man was charged Wednesday in a hit-and-run crash involving a horse and carriage that killed a 55-year-old man.
The crash happened about 8:05 p.m. Aug. 31 on Halltown Road (Route 8) at the intersection with Hartly Road (Route 44).
Police said Ervin D. Miller, of Hartly, was driving the carriage westbound and attempting a left turn into the Royal Farms store when the buggy was struck by an eastbound 1997 Chevrolet Lumina.
Miller and his 55-year-old wife were ejected into the roadway. He was later pronounced dead at Bayhealth Kent General Hospital in Dover. His wife was treated there and later released. The horse ran home.
The driver of the car fled east but police said tips through Delaware Crime Stoppers led to the arrest of Robert H. Eckeard.
He was charged with leaving the scene of a collision resulting in death, failure to report a collision resulting in death, failure to show proof of insurance and having expired tags.
Eckeard was being held at Vaughn Correctional Center near Smyrna in lieu of $7,002 cash bond.
Man killed, wife critically injured in hit-and-run crash involving horse and carriage