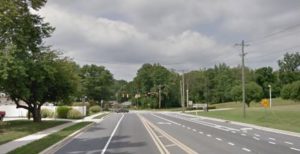 PRICES CORNER, DELAWARE (9/5/2017) A 30-year-old man killed in a crash on Faulkland Road early Saturday has been identified by New Castle County police.
The crash happened about 1 a.m. in the 1800 block, where a Mazda vehicle collided with a utility pole.
The passenger in the Mazda, 30-year-old Henry Gibson, was pronounced dead at a local hospital.
The driver, a 28-year-old man whose name has not been released, is being treated at a local hospital, police said Monday. His injuries were described as not life-threatening.
Police said alcohol and speed were factors in the crash, which is still under investigation.
Anyone with information on the crash is asked to contact Detective Michael Henderson at Mhenderson@nccde.org or police at (302) 573-2800.
Man killed, wife critically injured in hit-and-run carriage crash