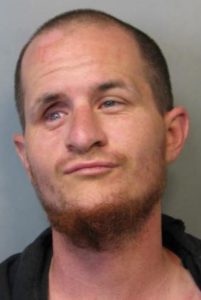 DOVER, DELAWARE (2/21/2017) A robbery suspect was arrested after a member of the U.S. Air Force chased and tackled the suspect, recovering a woman's stolen purse, Dover police reported today.
The incident happned about 8:45 p.m. Saturday in the 100 block of W. Loockerman St.
The victim was a 30-year-old woman who was walking to her vehicle after having dinner with friends, Master Cpl. Mark Hoffman said.
He said 33-year-old Brian McCain, of Dover, approached her and demanded she turn over her purse.
He became aggressive and she feared for her safety, Hoffman said, and surrendered the purse.
The airman, stationed at Dover Air Force Base, witnessed the incident and gave chase, tackling the robber a short distance away.
The woman was not injured.
Police arrested McCain near his home in the 100 block of W. Loockerman St. He was being held at Vaughn Correctional Center in lieu of $1,000 secured bond on a second-degree robbery charge.