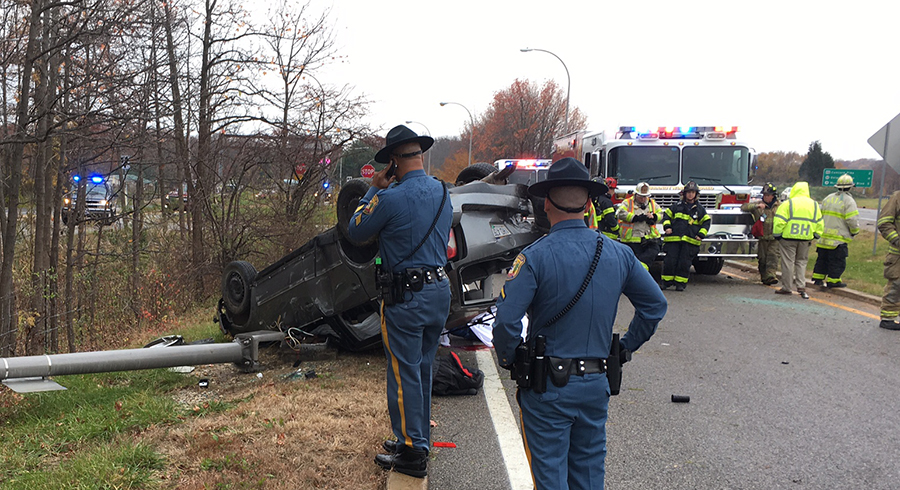 BRANDYWINE HUNDRED, DELAWARE (11/24/2016) A Wilmington man has been charged with vehicular homicide and DUI after his car struck another while he was driving recklessly on Interstate 95 near Marsh Road, the Delaware State Police said.
The name of the 60-year-old West Virginia man killed after his 2002 Volkswagen Passat overturned numerous times is being withheld pending notification of family. He was pronounced dead at the scene. Police didn't know if he was wearing a seat belt.
The crash was reported at 9:46 a.m. today on northbound Interstate 95 near Marsh Road.
Witnesses said a BMW was traveling in excess of 80 mph and cutting cars off when it struck the Passat, according to reports from the scene.
Both went off the roadway and ended up along the on-ramp from Carr Road, with the Passat, on its roof, striking a light pole.
Police said the 2001 BMW 325, driven by Gregory Delva, 39, of Wilmington, was in the right lane and clipped the rear corner of the Passat as he tried to pass. Both vehicles spun around.
Delva was charged with first-degree vehicular homicide, reckless driving and driving under the influence of alcohol. He was released on $6,500 unsecured bond.
One lane of northbound I-95 and the ramp from Carr Road were closed about three hours as police investigated and the wreckage was cleared.