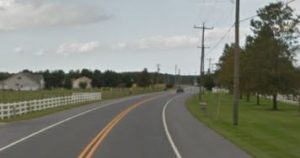 MILTON, DELAWARE (11/12/2016) A 25-year-old Millsboro woman was killed in a single-car crash south of Milton, the Delaware State Police said Friday.
The crash of a 2016 Dodge Dart was reported at 7:48 p.m. Thursday on Harbeson Road (Route 5) on a moderate curve south of Diamond Farm Road.
For unknown reasons, police said, the car left the east side of the road and continued north across grass until striking a utility pole with the right side and spinning around.
Brittani R. Yilmaz was a passenger in the front seat. She was pronounced dead at the scene. Police said she had been wearing a seat belt.
The driver, James J. Lynn, 29, of Staten Island, New York, was flown to Christiana Hospital in Stanton, treated for injuries and released, police said.
He later was charged with operation of a motor vehicle causing death of another person, failure to remain in a single lane and failure to have insurance. He was released on $2,000 secured bond.
Police said they are still investigating but speed does not appear to be a factor in the crash.
Harbeson Road was closed about three hours as troopers investigated and utility crews repaired downed wires.