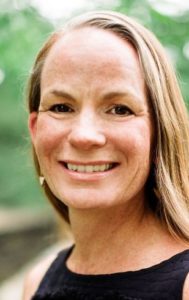 DOVER, DELAWARE (10/26/2016) A Brandywine School District educator has been named Delaware's 2017 State Teacher of the Year.
Wendy Turner, a second-grade teacher at Mount Pleasant Elementary School, won the honor Tuesday night at a ceremony at the Dover Downs Hotel and Conference Center.
Gov. Jack Markell made the presentation.
After starting her career working in a large public accounting firm, she found herself unfulfilled, she said in her
application: "I just did not want to work in corporate America anymore … being a
parent greatly changed my perspective and was a significant factor in influencing
my deep desire to do something meaningful."
She went back to school, taking night classes to earn her master's degree in
elementary education while continuing to work full-time. At age 40, she became a
teacher.
Turner will receive a $5,000 grant to use for the educational benefit of her students, as well two personal grants totaling an additional $5,000. The remaining 19 school district/charter candidates each will receive a personal grant of $2,000.
She also will receive: a $1,000 grant for educational/classroom use from American Institutes for Research; grants from the Delaware State Education Association, the Delaware State Chamber of Commerce and the Delaware Professional Standards Board; a State of Delaware Teacher of the Year commemorative plate from the Division of Motor Vehicles; free graduate-level courses from Delaware's higher education institutions, including a full doctorate program from Wilmington University and University of Delaware; a gold watch from the Delaware State Teachers of the Year Association; a 10-karat gold ring from Jostens; and lunch in Washington D.C. with U.S. Sen. Tom Carper.
"In each subject area, if I present opportunities for students to connect the work
they do in class to the real world, students overflow with enthusiasm," she said.
"Writing about current issues that reflect students' personal beliefs has meaning
and passion. Learning the science of how plants grow is more compelling when
students cultivate plants in an outdoor garden."
Brandywine Superintendent Mark Holodick in his letter of recommendation for Turner, said, "Wendy pours knowledge, heart, and soul into her students because she herself is filled with knowledge, heart, and soul."