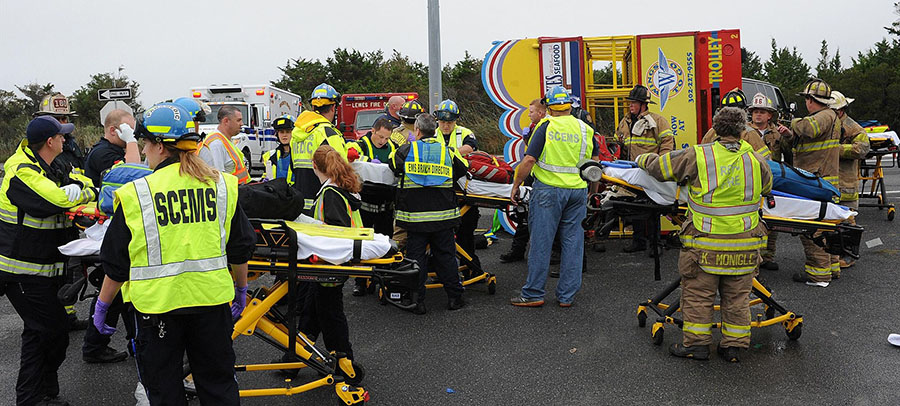 DEWEY BEACH, DELAWARE (10/2/2016) More than a dozen people were taken to hospitals after a Jolly Trolley trailer overturned on Route 1 south of Dewey Beach, the Delaware State Police said Saturday night.
The crash was reported at 4:41 p.m. as a 76-year-old Lewes man was driving a 2005 Ford Econo Van that was pulling the Jolly Trolley with about 22 passengers, all wedding guests.
Police said that for undetermined reason the trailer started to sway and then overturned in the southbound lanes of the highway at Tower Road.
The van stopped immediately and bystanders  helped pull passengers from the trolley.
The driver of the van was not hurt, but Sussex County emergency medical crews took at least 12 passengers to area hospitals with injuries not considered life-threatening, police said. According to Rehoboth Beach Volunteer Fire Company,  25 passengers were taken to hospitals.
Southbound Route 1 was closed about two hours as police investigated and the wreckage was cleared.
Police said they are still investigating and no charges have been filed.
Rehoboth Beach Volunteer Fire Company responded with assistance from Lewes, Bethany Beach, Millville and Mid-Sussex Rescue Squad.