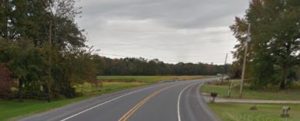 HARTLY, DELAWARE (9/29/2016) A 52-year-old man was killed this afternoon when a pickup truck crashed southeast of Hartly, the Delaware State Police said.
The crash was reported at 2:51 p.m. on Halltown Road (Route 8) just east of Crystal Road.
Police said Michael H. Wallace, of Marydel, was westbound when he lost control on a curve and went off the south side of the road, hitting a mailbox, spinning around and colliding with a tree on the driver's side door.
Wallace was pronounced dead at the scene. Police said he wasn't wearing a seat belt and alcohol may have contributed to the crash.
Route 8 was closed about 3.5 hours as police investigated and the wreckage was cleared.