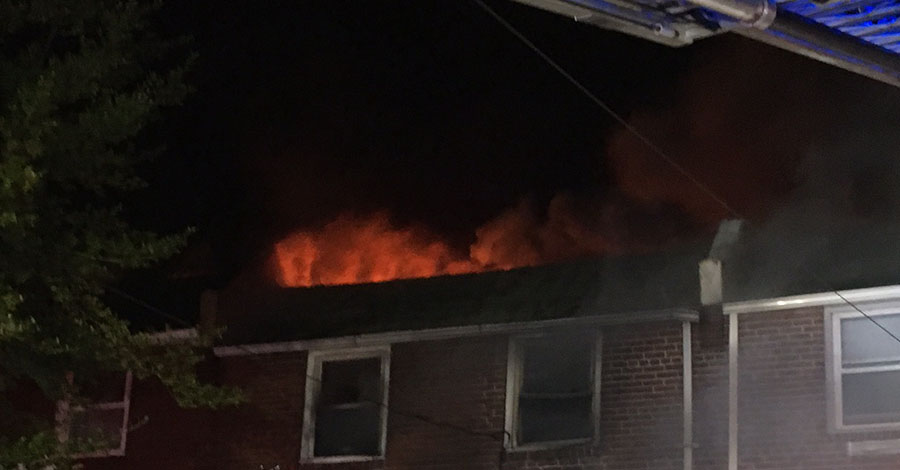 WILMINGTON, DELAWARE (9/24/2016) Two firefighters killed in the line of duty early today have been identified by the Wilmington Fire Department.
Lt. Christopher Leach, 41, and Senior Firefighter Jerry Fickes, 51, died when the first floor of a home at 1927 Lakeview Road, in the Canby Park area, collapsed while they were fighting the fire in the basement.
Two other firefighters were in critical condition and being treated at the burn center at Crozer-Chester Medical Center in Upland, Pennsylvania, Fire Chief Anthony Goode said.
"Utter devastation!" Goode tweeted this afternoon.
Two other firefighters were treated for injuries at Christiana Hospital in Stanton and released, authorities said.
Several residents of the home also were treated for minor injuries, according to reports from the scene.
A prayer vigil will be held at 4 p.m. Sunday at Salesianum High School, 18th and Broom streets, for the firefighters who lost their lives and those injured, Goode said.
Senior Ffr Jerry Fickes & Lt Christopher Leach. 9/24/2016 LODD's. #RIP my brothers! pic.twitter.com/6G7ueaGfk7

— Anthony S. Goode (@AnthonySGoode) September 24, 2016
The fire was reported at 2:54 a.m.
Heavy flames were coming from the rear when the first units arrived at the row home and an additional engine was dispatched, said Battalion Chief James R. Jobes.
At 3:14 a.m., a "mayday" was declared with firefighters attempting to assist those who were trapped when the floor collapsed, Jobes said.
The fire is under investigation by the Delaware state Fire Marshal's Office and the federal Bureau of Alcohol, Tobacco, Firearms and Explosives.
Leach was assigned as a ladder officer and Fickes was assigned to Squad 4, Jobes said.